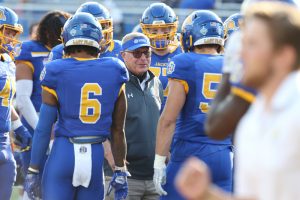 John Stiegelmeier, the winningest football coach in South Dakota State University history, has built the Jackrabbit program into a yearly contender within the Missouri Valley Football Conference and the Football Championship Subdivision.
Overall, Stiegelmeier has led the Jackrabbits to a 185-111 record (62.5% winning percentage) in 25 seasons. With Coach Stig at the helm, SDSU has reached the FCS playoffs 11 times (2009, 2012, 2013, 2014, 2015, 2016, 2017, 2018, 2019, 2020-21, 2021-22) and is one of only two FCS programs to reach the postseason each of the past ten seasons. The Jackrabbits won playoff contests in 2012, 2013, 2014, 2016, 2017, 2018 and 2020-21, 2021-22, and have finished in the top 25 of both major FCS polls in 13 of the last 16 years.
During the pandemic-altered 2020-21 season, the Jackrabbits made their deepest playoff run in program history by advancing to the FCS national title game in Frisco, Texas. SDSU entered the 16-team spring playoffs as the No. 1 overall seed and reeled off three consecutive home victories before falling in the closing seconds of the national championship game to Sam Houston, 23-21.
Under Stiegelmeier's guidance, SDSU has appeared in the FCS rankings 14 of the last 15 seasons. Stiegelmeier, 65, is the 20th head coach for the Jackrabbits. His tenure of 25 years as head coach is the longest head coaching stint for football in school history.
The Selby, South Dakota native, Stiegelmeier is active in the Fellowship of Christian Athletes, serving on the state board of directors and as the organization's SDSU faculty representative. He was presented with the organization's Grant Teaff Award in 2016.
Stiegelmeier was further honored for his community service in 2019 as a Barefoot Coach of the Year honoree by Samaritan's Feet International.
Faith & Hope
Community Breakfast
Thursday – April 6, 2023
Doors Open – 6:15am
Program – 6:45am
The Monument – Rushmore Hall
444 N. Mt. Rushmore Road, Rapid City
---
Tickets On Sale for $25.00 at
Alternative Fuel Coffee House
512 Main St., Suite 110, Rapid City
&
Fischer Furniture
1830 W. Main, Rapid City