2018 – Coach Tom Osborne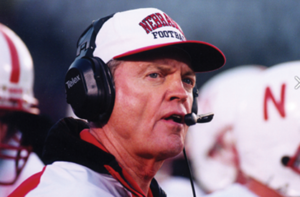 Head Football Coach of the University of Nebraska football team for 25 years
Elected U.S. Representative
Retired Athletic Director,University of Nebraska
Founder, TeamMates Mentoring Program
Coach Tom Osborne is one of the most successful coaches in American college football history, with a career record of 255–49-03, 13 conference championships, and three national championships. He served as the head football coach of the University of Nebraska football team for 25 years, from 1973 to 1997.
Osborne was inducted into the College Football Hall of Fame in 1999, and in 2000, he received the Jim Thorpe Lifetime Achievement Award. In 1999, ESPN honored Osborne as the coach of the decade for the 1990s. This honor is even more impressive considering the fact that he did not coach for 20% of the decade. In a 2007 online ESPN poll, Osborne was voted the "greatest college football coach of all time".
In 1999, Nebraska renamed the playing surface at Memorial Stadium "Tom Osborne Field" in Osborne's honor. The stadium had almost doubled in size during his three decades on the coaching staff, reflecting Nebraska's increased national prominence in that time.
Early in 2000, Osborne announced that he would run in Nebraska's 3rd District as a Republican. Due to his wide popularity in the state, he easily won the Republican primary, which was tantamount to election in what has long been one of the most Republican districts in the nation. He breezed to victory in November with 83 percent of the vote. He was reelected with no major-party opposition in 2002 and against an underfunded Democrat in 2004.
In 2007, he returned to the University of Nebraska as Athletic Director and accepted an invitation for Nebraska to become the twelfth member of the Big Ten Conference. He retired as AD in January 2013 following their participation in the Capital One Bowl.
Today, he is very involved with his TeamMates Mentoring Program founded in 1991 with his wife, Nancy. TeamMates provides support and encouragement to school aged youth. The goal of the program is to see youth graduate from high school and pursue post-secondary education. To reach this goal, youth meet one hour per week with a caring adult who serves as a mentor. Mentors are volunteers from the community who have dedicated themselves to making a difference in the life of a young person. Mentors give youth a sense of hope, purpose and vision. The TeamMates Mentoring Program currently provides a mentor for over 7,000 youth across Nebraska, Iowa, Kansas, and Wyoming, as well as in San Diego, California.
Faith & Hope
Community Breakfast
Thursday – April 6, 2023
Doors Open – 6:15am
Program – 6:45am
The Monument – Rushmore Hall
444 N. Mt. Rushmore Road, Rapid City
---
Tickets On Sale for $25.00 at
Alternative Fuel Coffee House
512 Main St., Suite 110, Rapid City
&
Fischer Furniture
1830 W. Main, Rapid City